When Melissa asked if I would be interested in her secret project to feature women of all ages, sizes, and gender identities, I was excited.
Excited to pose. Excited to let go. Excited to shut my eyes, find my happy place, and be transformed into a sexy, confident, commanding woman.
But I was also terrified.
Terrified to say yes. Terrified to see myself. Terrified to let someone else capture me with their lens, to instruct me into positions and request my trust.
I have been living in anxiety for quite some time. Anxiety to be seen as a fraud in a conservative county of a state in which I still don't quite feel at home. When I moved to Wisconsin from Massachusetts a little over a year ago, I was leaving behind a widely-accepting "come as you are" atmosphere. Since then, I have been hesitant to leave the house. And the few friends I've made are scattered, meaning a drive to yet another unfamiliar place.
I've deadlocked myself into my little area of home, the grocery store, and my therapist's office. Aside from the occasional dinner or appointment, I've been a homebody most of the time for the better part of a year. Which brings me back to the Facebook message from a person who wanted to feature me in such a public way.
I hurriedly responded YES and soon found myself preparing for a fitting at Althea's Fine Lingerie. Yet the feeling of fraudulence didn't relent. "Are you sure you're supposed to be doing this? Are you sure you're allowed to be celebrate your weird body with women who are more deserving than you?" I literally shook as I entered the boutique.
But something happened in the 2+ hours I spent sifting through endless black bras, swilling wine, and making self-deprecating comments about my body under the truthful lighting.
I started to wake up.
Melissa and Althea were totally normal. I wasn't a token. I wasn't given sweet epithets to make me feel good or spend more money. I was genuinely accepted without hesitation.
I belonged.
It was this sense of belonging that carried me through the next few weeks. The day before my shoot, I was wracked with anxiety. Could I really go through with this? What if I liked nothing the camera had to show me? What if this made my self-image even worse than it already was?
But I had come this far, I needed to see it through.
I arrived at the studio with a coffee three times the size of my self-esteem. I met the stylists and before long, I was coiffed and painted. All that was needed was me.
Nervous excitement vibrated through me as I donned the first outfit. I paused, looking over the proverbial cliff, expecting an abyss of fear and shame. I crept out and entered the studio room to find something I hadn't expected. There, in the reflection of the oversized mirror, my purple lipstick popped, my false lashes opened, my lacy lingerie contoured.
I saw me.
Thrusting my right hip out, I cocked my head to the left. Suddenly, the anxiety went out like a light.
I could tell you about the sex I naturally exuded in front of the camera. I could tell you that some of the best shots were a result of my improvisation. I could say that Melissa gushed on multiple occasions about my being a "natural."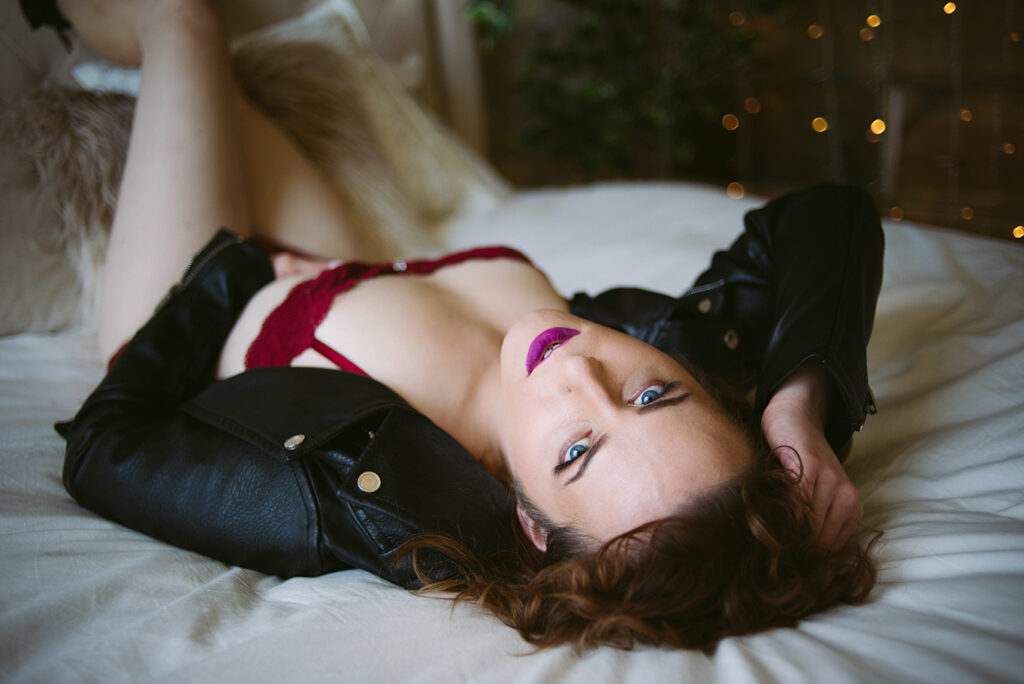 But instead, I'll focus on the aspect that has started to change my life. I haven't yet mentioned that I'm a transgender woman. My gender identity has perpetually hindered me from accepting my womanhood. Handing myself over to Melissa's lens tore off my blinders.
I can see.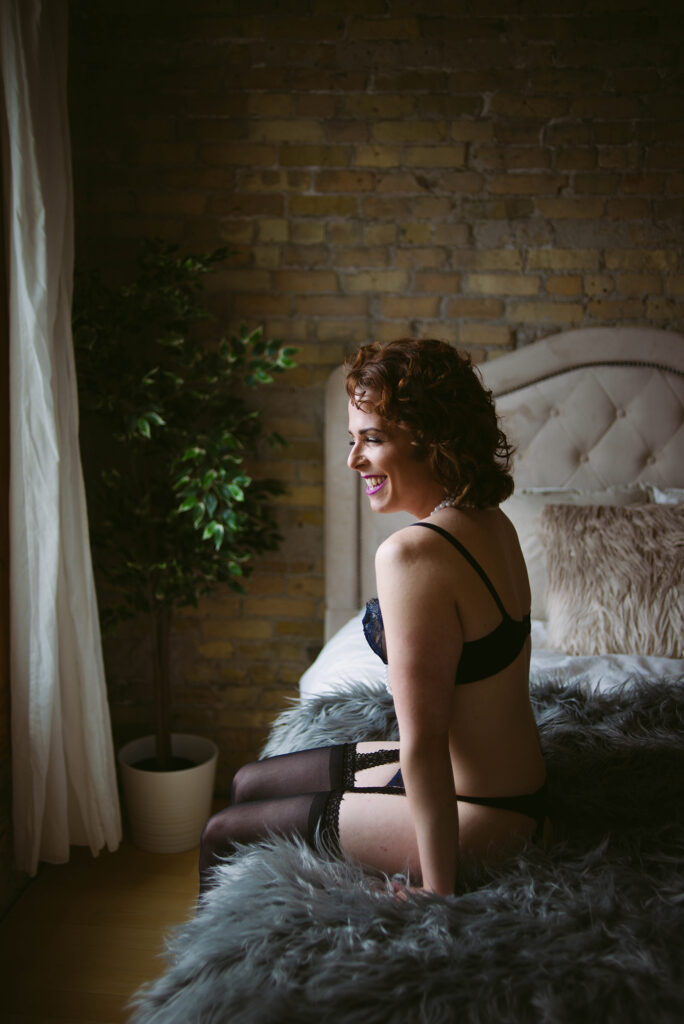 The woman.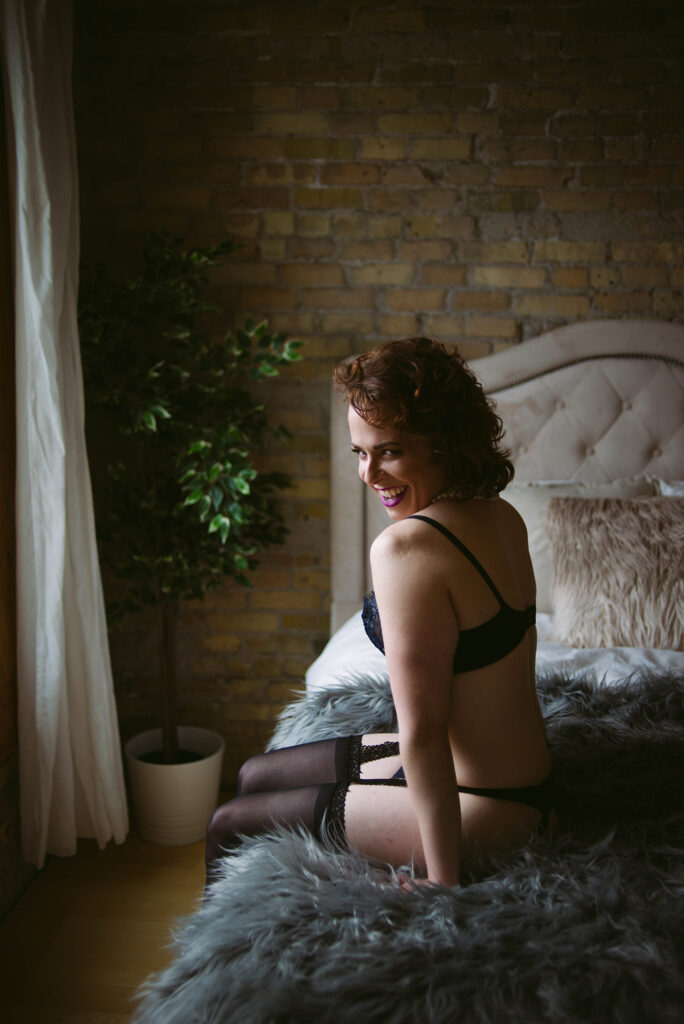 I already am.
I have never felt so intrinsically like myself. I've been trying to come to terms with who I am, to find legitimacy in my body, and see beauty in my existence. But when I stopped trying and let Melissa guide me, nothing was in my way. I owned that fucking space.
The final step in this journey was the reveal. My initial reaction was not exactly positive. My eyes were drawn to the spots I found ill favor with, nitpicking and fretting over the body I had so willingly let loose. But on the second round, when I began choosing the shots I "didn't hate," my eyes began to focus.
At the end of all this, I still cannot say that I love everything about myself. I will say, however, that the things I still dislike no longer make me feel like less of a woman. I no longer feel like an outsider.
I should note that there are things about me I fell in love with. Melissa brought out the aspects of my body and my face that thrills me to see. It is a gift to know I can feel this way about me.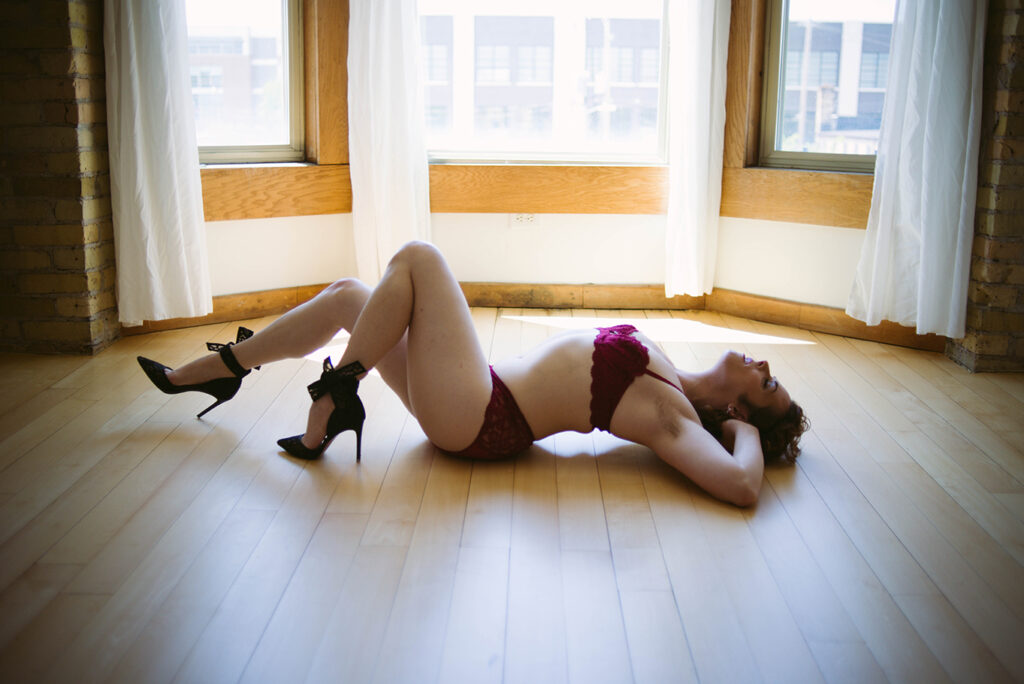 We all see things on ourselves that we don't like. And if I can admit that I have this same issue, I can admit that this issue isn't one of gender identity. It's just a simple fact of being human. I no longer need to justify myself as a woman or that I'm supposed to make up for something. I can instead focus on embracing the woman I am, the woman I was always meant to be.
Melissa has helped me to move forward while recognizing how far I've already come. And now I get to work in her world, to be a part of making this happen for other women. Women who see themselves as less deserving. Women who have carried shame for a long time. Women who, like me, are starting to wake up after letting Melissa show them who they really are.
Let's continue waking up.
Together.