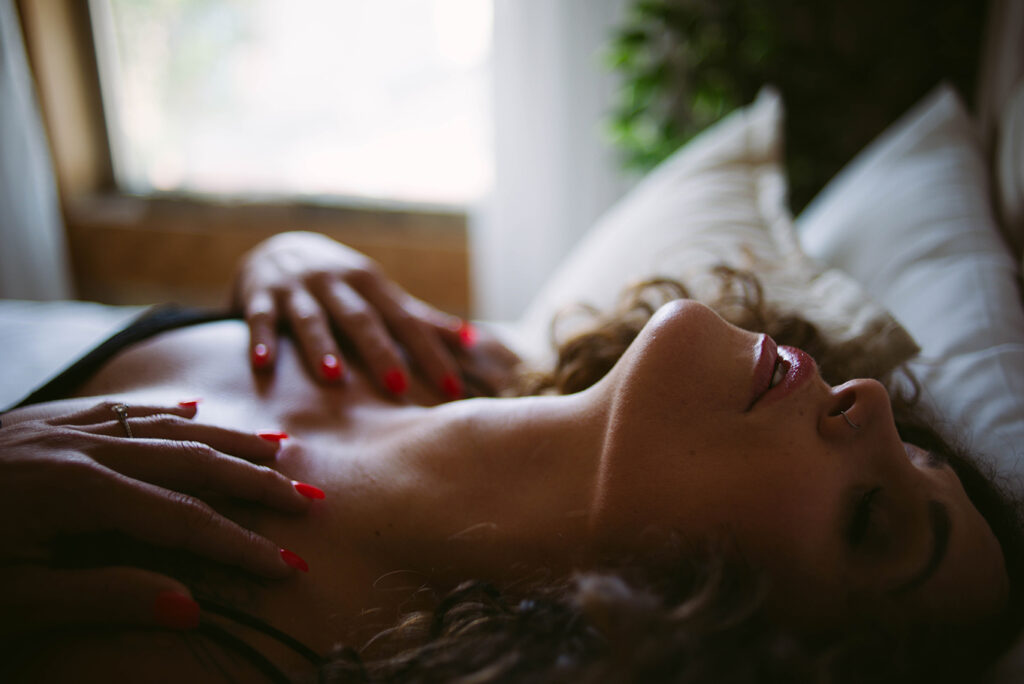 I have always believed that boudoir is for everyone, and I want shoots to be accessible to everyone. As women, especially mothers, we often put ourselves at the bottom of the list, especially when it comes to an experience as luxurious as a boudoir shoot. We tell ourselves we don't "need" photos of ourselves, or that breathtaking lingerie or the starlet hair and makeup treatment.
The truth is, we need passion and excitement in our lives just as much as we need air to breathe. And a little bit can sustain us for a long time. I want everyone to be able to experience boudoir. To be able to remember the heart pounding excitement that comes with preparing for your shoot, having the courage to walk through the front door, to come out of the dressing room in your daringly sexy attire, and to open yourself up to the vulnerable but glorious process of being photographed by another person. To let someone see the beauty you can't always see in yourself.
Over and over, I have also seen women flabbergasted by how much they absolutely adore their images, not having expected to want the top collection, or even 20 images-but they do-they want them all. All the time! While session fees and collections are going up, I have a new and super exciting program that will let you extend payment plans beyond our current six month plans, so you can have the boudoir album of your dreams. Introducing . . . . the boudie bank!
The Boudie Bank allows you to pay into your account before your shoot!  This means you can pre pay for your collection (in full or in part) ahead of time, and if you decide to upgrade after that, you can STILL take advantage of our current payment plans-this means you can have longer than 6 months to pay for your order!  Okay now for the details on pricing changes:
Collections will now include a credit for wall art in addition to the $100 credit towards the collection of your choice included in your session fee! There has been a huge surge in orders for wall art, and I am making it easier for you to relive that amazing boudoir experience every day when you look at your gorgeous self!  
Session fees will be going up to $349 and collections will begin at $749 instead of $450. This means a 2019 boudoir shoot starts at $599 and 2020 shoots will start at $998. Digital files will only be available with our Signature Black Book and Session Collections.
Now the important part-how you can save!!!
Book a shoot by 10/31/2019, and receive 2019 pricing for shoots scheduled through 3/31/2020!
Book with a friend and each of you will receive an additional $100 credit towards your orders! You can schedule shoots on different dates, or make a girls day of it!
Click here to book, or contact me at [email protected], or call/text 4144678338!! I would love to photograph you!
xoxo
Melissa