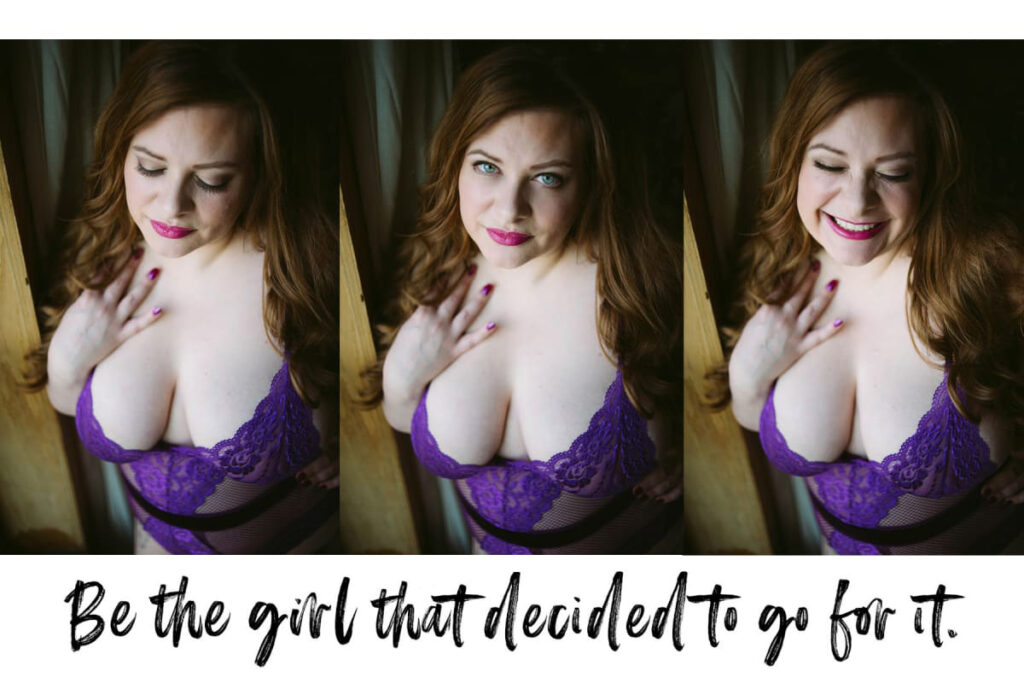 Are you considering booking yourself a shoot for Black Friday?!
Are you ready to feel empowered and confident? To unapologetically love yourself? Treat yourself to an amazing boudoir experience! Your $249 Black Friday Boudoir Session includes:
Your Boudoir Session (wardrobe styling, professional hair and makeup before your shoot and same day viewing and ordering session)
$100 credit towards the collection of your choice. View collections here and see info on my no fee payment plans below.
$25 credit towards wall art
$25 off $100 purchase at Altheas Fine Lingerie
$25 off any service valued at $50 or more at Clean Slate Spa
$25 deep conditioning treatment with purchase of cut with Natalie at Strand Salon
$25 exfoliant upgrade with purchase of a glow and go facial with Amy Aviles at Adorn
$25 credit towards a massage while you wait for your images to be edited
Here are all of the most frequently asked questions to help you! Still have questions? Call or text me at 4144678338 or email me at [email protected].
I am not sure if boudoir is for me. Can I do this?
YES! Boudoir is for everyone. Women of all ages, all sizes, all shapes. Women with curves, without curves, with stretch marks, Humans who are gender queer, transgender, non-binary, moms. People who have disabilities, mastectomies, scars, and cellulite. ALL OF YOU ARE BEAUTIUL and deserve an incredible experience of self love. You can do this!
Okay, so how does this work?
Once you have purchased your Black Friday Session, you'll receive a confirmation email with info on how to schedule your shoot and how to redeem all the extra goodies that came with your shoot!
I will help you every step of the way!! I will answer any questions you have and be sure you have all the information you need to prepare for an amazing boudoir experience.
How are you handling covid?
I am taking covid very seriously by limiting the number of people in the studio and maintaining strict cleaning protocols. There will only be 4 of us total in a room at one time, including you, me, the makeup artist and the hair stylist. We will all be wearing masks, and you are definitely welcome to wear one to the extent possible, though it will not be possible while you are getting makeup done and being photographed. If it is necessary to blow dry your hair, we will ask that you wear a mask. If you would like to avoid this, please arrive with clean dry hair. For the most part, I should be able to photograph you from 6 feet away, but for some of the shots, I will need to be closer for the short time it takes me to take my shot and to possibly adjust your hair or your outfit. In addition, I will be changing linens and sanitizing all surfaces between clients (pillows, couches/chairs etc) and high touch surfaces will be cleaned frequently.
So I book my shoot-then what happens?
Once you have booked a shoot, I will send you our step by step prep guide! I am available by text/email/phone or even in person if you'd like extra help getting ready for your shoot!
When do I get to see the pictures?
THE SAME DAY as your shoot! About an hour after we wrap up your shoot, we have a gallery reveal and ordering session! We sit down, view a slideshow of all your incredible, gorgeous jaw dropping images, and I help you finalize your order.
What if I need a payment plan?! How does that work?
I offer payment plans for collections for up to 6 months with no additional fees! See my pricing for collections here! You can either pay by PayPal credit if you need your order right away, or by an auto withdrawal from your credit or debit card. This puts our collections at $27-67 a week!
Do you accept PayPal credit?
Yes! This allows you to receive your order sooner! (subject to approval).
When do I receive my order?
Between 2-6 weeks after it is paid in full (if you have a tight deadline let me know and I will do my absolute best to accommodate you).
Ready to take the leap? Click HERE to Get your Black Friday Session!!!